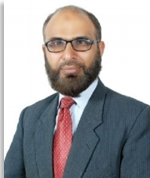 Dr. Muhammad Farooq Sabar after joining CAMB in 1996 established the first DNA sequencing/genotyping lab of Pakistan in 1999. He contributed in many research projects by providing the quality DNA genotyping/sequencing analysis data and has trained indigenous manpower in the field. New loci/genes for genetic diseases have been identified in his labs. He has contributed in more than 500 research publications and hundreds of Ph.D/M.Phil theses. He has earned more than 104 impact factor and 390 citations through his 24 quality data publications.
As a HoD, Dr. Farooq offered DNA sequencing/genotyping and synthesis in 2005 throughout the country and abroad. He also got HEC sponsorship and has earned more than Rs.100 Millions for the department through these services. He is helping researchers/academicians in genomics analyses throughout the country. Due to DNA analysis facility in his lab and his expertise in the field, first DNA forensic lab of Pakistan was also established at CAMB. Besides this, during his PhD (2010) he produced a unique tri-branched PEG-IFN (HCV medicine) which exhibited better therapeutic properties than linear/di-branched PEG-IFNs.
During Postdoc fellowship, he worked on cancer genetics at KFSH&RC, KSA. Currently, along with teaching M.Phil/Ph.D students, he is investigating contribution of genomic variants in asthma development in Pakistan. In his recent research publications, he has reported genomic regions associated with asthma and some variants associated with asthma in specific environment. Being HEC approved supervisor he supervised one Ph.D, one M.Phil and one MS on asthma studies and one M.Phil on population genetics. In future plans, he intends to study molecular biology of asthma and other genetic diseases in detail. The outcome of the research may be commercialized in future.