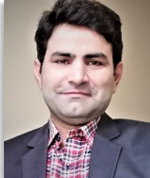 Muhammad Shafiq joined University of the Punjab Lahore as Lecturer (on Adhoc) in the College of Earth and Environmental Sciences (CEES), later as Assistant Professor (on Contact) and as Assistant Professor (TTS-19) in Institute of Botany (IoB). During his services in CEES and IoB, Muhammad Shafiq achieved significant milestones in the Basic & Applied Research, Teaching and Administrative activities related to Botany and Environmental Sciences.
As a researcher, his key achievements include: supervision/co-supervision of 02 PhD, 53 MS/MPhil and 31 MSc/BS Thesis related to Botany, Environmental Sciences, Geomatics, Development Studies, and Gender Studies. He has 21 research articles in his credit that are published in Peer Review Journals/Conference Proceedings. He has won 4 Research Innovation Awards for developing Technologies/Technology Designs including prestigious Award of UNIDO's GCIP (Global CleanTech Innovation Program). He has so far designed and developed cost-effective charcolators with 200 liter/day biochar production capacity; wood chipper with material diameter capacity of 9 inches; compost site with capacity of handling over 50 cubic yards biomass feedstocks; vertical farming racks for organic and conventional vertical farming; and 100 % organic compost & compost tea with high NPK and micronutrient contents. He is Certified Composter from Cornell University NY USA and has worked as Compost Trainer and Research Collaborator with multiple Compost Stakeholders/Partners at applied scale in different States of USA and composters from Pakistan. He has pioneered composting-based management of biodegradable source-separable components of Municipal Solid Waste (MSW); for which HEC Pakistan recently awarded him Applied Research Project of PKR4.954241.00 Million as Principal Investigator (PI) with 7 Research Project already completed. He has served as Lead National Trainer/Consultant for International Project on "Comprehensive Reduction and Elimination of Persistent Organic Pollutants in Pakistan" funded by UNDP, GEF and Ministry of Climate Change, Pakistan. As Secretary, he has organized 02 International Conferences and 02 National Training Workshops.
Muhammad Shafiq has over 9-years of teaching experience at University level and had developed curricula of multiple subjects for the degrees of PhD, MS/MPhil, BS/MSc in the discipline of Botany, Environmental Sciences, Applied Hydrology, Development Studies, and Gender Studies.
He has performed multiple Administrative duties as Incharge/Member of Committees constituted at University, College and Department/Institute level.