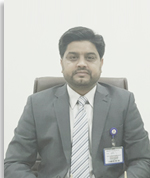 Dr. Shafiq is a Certified Six Sigma Black Belt, Certified Project Manager, and Certified Process Improvement Manager in Lean Quality Management from Harrington Institute USA. He is also a Certified Lead Auditor of ISO 9000 (Quality Management System), ISO 14000 (Environmental Management System) and HACCP (Food Safety System). He has the first degree in Chemical Engineering, MS in Quality Management and PhD in Quality Management from University of the York UK.
Currently, he is working as Head Skill Development Centre University of the Punjab Pakistan and Assistant Professor at Institute of Quality and Technology Management (this is a pioneer institute in the area of quality management in Pakistan), University of the Punjab. He is a Higher Education Commission (HEC) of Pakistan approved PhD supervisor. He has supervised more than 150 MPhil/MS research projects. Currently, he is supervising fifteen MPhil and five PhD students at University of the Punjab Lahore Pakistan. His PhD students are doing their empirical research in the area of quality management, innovation, knowledge management, performance management and supply chain management.
Besides his teaching assignments, he is also involved in consultancy projects. He has delivered more than one hundred training sessions in UK, Middle East, Indonesia, Malaysia and Pakistan. He has trained hundreds of professionals from the multinational organizations like Honda, Toyota, Pepsi, Nestle, ICI, Unileaver and Telenor.
First time in Pakistan he has developed state of the art "Inspection and Auditing System". This system could be used online, offline He has developed more than seventy training courses and programs in the area of quality management, technology management, environmental management, food safety, health and safety, performance and improvement management. The main areas of his consultancy are; Six Sigma Implementation, Quality Management Systems, Performance Improvement Systems, Excellence Models, TRIZ (Theory of Innovation and Inventiveness)Environmental Management System, and Statistical Process Control.
His two books named "Implementation of Quality Control Tools by using MiniTab" and "Total Quality Management and National Culture" are in press. He has also written many articles in the well-reputed journals. He is the Executive Member of National Council for Quality and Technology, Pakistan and Member of Pakistan Engineering Council.