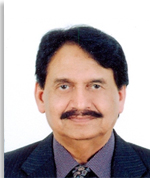 Professor Dr. Abdul Rauf Shakoori, Distinguished National Professor and Director, School of Biological Sciences, University of the Punjab won an international ECO Award 2012 in the field of Science and Technology, which was conferred upon him during the 12th Economic Cooperation Organization (ECO) Summit, held in Baku, Azerbaijan on October 16, 2012. Prof. Shakoori has a distinguished scientific career, for which he has previously been recognized by Pakistan's highest academic award Aizaz-i-Kamal by President of Pakistan (1996), a Civil Award Tamgha-i-Imtiaz by the Government of Pakistan (1999), Distinguished Scientist of the Year Award by Pakistan Academy of Sciences (2011), Zoologist of the Year Award by Zoological Society of Pakistan (1997), and Scientist of the Year Award by the Ministry of Education, Government of Pakistan (1986). Prof. Shakoori is elected Fellow of prestigious Pakistan Academy of Sciences (1991) and The World Academy of Sciences (TWAS) for the Developing World (2004), He has been a senior Fulbright Fellow (1992-93), senior DAAD Fellow (1996), research Fellow of the Royal Society, UK (1999), and President, Zoological Society of Pakistan (2012-2016). Prof. Shakoori has played pivotal role in establishing Department of Microbiology & Molecular Genetics, and Centre for Advanced Molecular Bioloigy in the University of the Punjab. Prof Shakoori has been Visiting Professor at the University of Massachusetts Medical School, Worcester, MA, USA (1989-2012), University of Marburg Germany (1996), Kings College London (1997), and University of Essex UK (1999), Lahore University of Management Sciences (2005-2007) and King Saud University, Riyadh, Saudi Arabia (2014-2016). He has published more than 594 original research articles, produced 61 Ph.Ds. and written 19 books.
Current Research Areas
Epigenetic markers for breast cancer
Cell adhesion proteins and metastasis: Role of cadherins, actinins and catenins
Osteogenic potential of a local herb Cissus quadrangularis
Molecular identification and phylogenetic implications of Paramecium species of Pakistan
Metallothionein proteins of ciliates: characterization, expression, genetic manipulations to enhance their role in bioremediation of industrial waste water.
Regulation of operons for heavy metal resistant operons in Klebsiella pneuminae
Characterization and genetic manipulations of different cry proteins of Bacillus thuringienesis to enhance their toxicity towards pests.