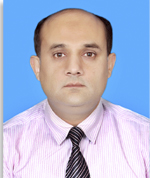 Ayyaz is the Assistant Professor at Institute of Quality and Technology Management with responsibility of looking after the Industrial Engineering Programme.
Ayyaz completed his first degree in Mechanical Engineering with honors from UET Lahore. Following this, he completed his Master's Degree majoring in both Industrial Management and Computer Integrated Manufacturing from University of New South Wales Sydney Australia followed by a PhD in Mechanical/Industrial Engineering from Curtin University Australia.
He has a vast experience of working both in Australia and Pakistan. His research has been presented and published in several International Conferences and Journals. He was the Deputy Link Coordinator of HEC-BC link programme where he developed successful linkage with Northumbria University UK. The link was declared as the best link by British Council. He closely worked with UNIDO, EPB, PSIC and SMEDA for the Cluster Development Programme in Pakistan for several years. Ayyaz also received several Local and International grants for research and trainings abroad.
Ayyaz biography was nominated and published by Who's Who in the World in 2007 and subsequent editions. He is also the winner of the 2015 Emerald/European Foundation for Management (EFMD) Outstanding Doctoral Research Award.
His research interest includes Rapid Prototyping, Technology Selection & Adoption, Total Quality Management & Manufacturing Strategy.