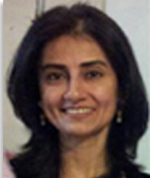 English Literature and language have been her interest since her early years of learning at Convent of Jesus and Mary, Lahore. After her MA in literature from the Kinnaird College she went on to do her M.Phil in the subject from Punjab University where she also studied Linguistics.
Her area of interest for over a decade has been stylistic analysis of various literary genres especially poetry. Her M.Phil dissertation was a study of image and Metaphor in the Nobel winning verse epic of Derek Walcott, Omeros. she has published and presented work on Seamus Heaney and the award winning Pakistani poets Shadab Zeest Hashmi and Athar Tahir. She also wrote the introduction to Tahir's 2012 Collection, A Gift of Possession.
Her interest of late has augmented divergently to embrace contemporary Nature Writing and the Early Modern tradition of the Dastan. The former has lead her to British nature writers: Edward Thomas and Robert Macfarlane and the Indian poet and novelist Vikram Seth. The latter, to English Translations of Dastan Amir Hamza, Talism Hoshruba and other local samples of Urdu Qissa and Dastan.
She has been a regular presenter (2007-2015) at the SPELT International Conference held annually in Pakistan. The topics of presentation have ranged from the Teaching of Poetry through Lexical and Syntactic Analysis to The Hegemony of the English language in the Expression of Oriental Thought to Nature and its Representation in Urban Discourse.
As the Punjab University Faculty Advisor to the Model United Nations team she has attended MUNs both nationally and at the international level and have participated in seminars and workshops on Conflict Resolution and the European Union.
She is a member of the international online association of Ecolinguistics and has published poetry in their online journal.
Her teaching responsibilities over the years have been in the areas of Renaissance, Modern and Contemporary poetry and drama as well as Modern Fiction.