Ms. Ayesha F. Barque
Assistant Professor (On Study Leave)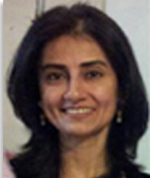 Ayesha Fatima Barque is an assistant professor. She teaches and supervises research at the undergraduate and post graduate levels. Her M.Phil dissertation was a study of image and Metaphor in the Nobel winning verse epic of Derek Walcott, Omeros. She has published and presented work on contemporary Pakistani poetry and Drama written in English.
Her area of interest has been British Nature Writing along with reflections on nature in south Asian poetry and prose. More recently she has been looking into sub-continental Literature: the Early Modern tradition of the Dastan and eighteenth century Sufi verse renderings of Punjabi folktales.
She has been a regular presenter (2007-2015) at the SPELT International Conference held annually in Pakistan. Her concerns have been stylistic and sociolinguist in nature. Her topics of presentation range from the Teaching of Poetry through Lexical and Syntactic Analysis to The Hegemony of the English language in the Expression of Local Thought to Nature and its Representation in Urban Discourse.
Designation:- Assistant Professor (On Study Leave)