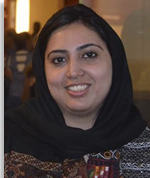 Ms. Humaira Tariq holds an M.Phil in English Language and Literature from Government College University Lahore with distinction, and is on way to start her Doctorate. She has been teaching as Lecturer of English in Center for Undergraduate Studies, University of the Punjab for more than a decade and is also teaching and supervising MPhil literature students of University of Lahore.
At different times, she has performed different responsibilities. She has been the Head Examiner of multiple schools of language affiliated with the University of Punjab with the credit of setting quality examination papers for the past years. She is also serving her center with the dual responsibility of being the library In-charge and tour in-charge. In lieu of her English debating accreditation she is invited as adjudicator in various debating competitions and is one of the permanent members of committee for admission in reserved seats, (on debates basis) in University of the Punjab.
Her research interest is mainly in Pakistani fiction and her research work is on post colonial literature, literary theory, migration and diasporic studies. She has about 5 research publications in international journals and has presented her work in more than 10 reputed national and international conferences.