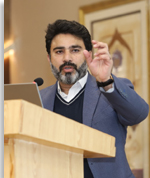 Shahzeb Khan is working as an assistant professor at the Department of English Language and Literature, University of the Punjab, Lahore.
Along with teaching and research at the University, Mr Khan helped set up the first of its kind, faculty discussion forum, called Indigenizing Knowledge (InK) Forum, at Punjab University in July 2016. He organized the first-ever TEDxPunjabUniversity event in 2017, followed by the second event in December 2018. He has also been instrumental in establishing Punjab University Library Book club at the main library of Punjab University.
Mr Khan has published his research in various journals pertaining to literary humanities and his areas of special interest include decoloniality, indigenization of knowledge, English Literature as an instrument of ideology, and institutionalization of literary study. At the moment, he continues to be the associate editor of the Journal of Research (Humanities), JRH, which is published by the Department of English Language and Literature since 1966.