Ms. Aneela Yasmeen
Research officer cum Lecturer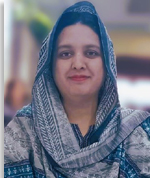 I started my professional career as research officer from Centre of Excellence in Molecular Biology (CEMB), University of the Punjab Lahore, back in April 2008 after completion of my M.Sc. (Biochemistry) from Institute of Biochemistry and Biotechnology (IBB), University of the Punjab, Lahore. Later on my post was upgraded as Research officer cum Lecturer in January 2010.
In CEMB, I have worked in different laboratories including Immunology Lab, HBV / HCV diagnostics lab, Medical Genetics lab and Plant Biotechnology Lab. Currently I am part of Plant Biotechnology research group and working on development of virus free cotton as part of a project which is a joint venture of USDA-ICARDA and 12 different components across Pakistan including CEMB.
I am also serving as CEMB-Focal person hostel affairs (Since 2015 till date) and Assistant Superintendent PU-Girls hostel No.5 (Since Feb 2010 till date).
I have done my M.Phil. during my job from CEMB. The topic of my M. Phil thesis is "Transformation of Cotton (Gossypium hirsutum) with Amplicon Based Small Interfering RNA Targeting CLCuD." Currently I am pursuing my PhD degree from CEMB.
I am also founder of Gulls' Association; founding member of Islamic Young Scientists Academy (IYSA); Events coordinator at CEMB; and Events coordinator at congress of Molecular Biology (CMB). I also served as Executive Member and vice president of National Academy of young scientists (NAYS), Pakistan. As part of all these organizations, I have organized more than 50 events (Awareness Seminars, Training Workshops, and Competitions) across Pakistan.
Designation:- Research officer cum Lecturer