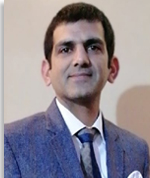 Engr. Muhammad Ishtiaq did his B.Sc. (Engg.) Metallurgy & Materials Engineering from Department of Metallurgy and Materials Engineering, University of the Punjab, Lahore in 2010 and M.Sc. (Engg.) Metallurgical and Materials Engineering from University of Engineering and Technology, Lahore in 2015.
Currently, Engr. Muhammad Ishtiaq is working as Lecturer at the Department of Metallurgy & Materials Engineering, College of Engineering & Emerging Technologies, University of the Punjab and engaged in imparting technical knowledge and skills to engineering students at undergraduate level. He is also supervising research projects of undergraduate and graduate level students. He participated in various national and international conferences and workshops.
His areas of research are Heat-treatment & Physical Metallurgy, Corrosion & Surface Engineering and Ceramics & Polymeric Materials. He has published various research articles in national and foreign journals of international repute.