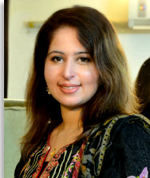 Sania Zahra Malik is a PhD in Business Management from University of Glasgow, United Kingdom, which she completed under FDP scholarship from HEC. Previously, she obtained an MBA in Finance from IBA, University of the Punjab with distinction. She is currently working as Professor at IBA, and has a teaching experience of more than 15 years to her credit. She is also part of the Punjab University's administrative setup, being member of various committees, advisor QEC, and currently serving as superintendent of a girls hostel facility.
As a researcher, she has published her work in various HEC recognized journals, and presented in leading conferences such as BAM and AOM. She contributed towards curriculum development by introducing the subject of Positive Organizational Scholarship as a specialization course of HRM, which was offered for the first time in any business institution in Pakistan. Moreover, 5 PhD students are currently enrolled under her supervision, out of which, 3 are HEC scholarship holders. Additionally, more than 20 Mphil or equivalent students have completed their thesis under her supervision. Her lectures on Training and Development Course for postgraduate level students, from the platform of Virtual University, are available on youtube as open source course material and also telecasted all over the country and internationally as well. She has been part of various academic bodies, such as member, Faculty Board in Leads University and member, Board of Studies at IQTM, PU. She is also on the panel of external examiners for thesis evaluation in several institutions such as Virtual University, University of Central Punjab, Riphah International University, Leads University, Kinnaird College University, etc, and on the panel of reviewers for several HEC recognized local and international journals and conferences.
Her areas of interest are Quantitative Research Methods, Critical Management Studies, Organizational Behavior, Organizational Psychology and Organization Theory. She has also conducted workshops on SPSS and EndNote at the institute. On the personal front, she is married and is a proud mother of two children.