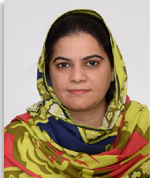 After completion of Masters from Department of Botany, University of the Punjab, Dr. Batool joined the MMG in May 2003 as Research officer/ Lecturer on contract basis. She was selected as Lecturer in April, 2006 and as an Assistant Professor in Dec, 2012 on regular basis. Dr. Rida Batool did her Ph.D. from the Department of Microbiology and Molecular Genetics, University of the Punjab, Lahore, Pakistan under the supervision of Prof. Dr. Shahida Hasnain. During her PhD studies, she was awarded with the grant to work with Prof. Dr. Kim Yrjälä (MEM group) at University of Helsinki, Finland under International Research Support Initiative Program (IRSIP) of HEC and further improved her skills in the field of metal bacterial interaction. Her areas of expertise are:
Environmental Microbiology/Biotechnology
After completion of her PhD in 2012, she continued her research in Environmental Microbiology/Biotechnology, with a focus on metal-microbe interaction, wastewater treatment, biosorption and mechanisms of metal resistance. Presently, Dr. Batool is involved in investigating the role of Metal resistant bacterial strains in the remediation of polluted wastewater alone and in association with plants.
Isolation and characterization of Antimicrobial Compounds
The other aspect of her research work involves the isolation and characterization of bioactive compounds of indigenous plant and bacterial origin. Further research is focused on the role of these bioactive compounds in controlling various infectious diseases.
Dr. Batool has attended and represented University of the Punjab in various national and International workshops, seminars, symposiums and conferences. She has got funding from HEC under NRPU and University of the Punjab for the research.