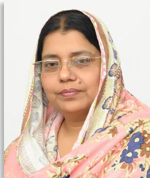 Dr. Nazia Jamil completed her PhD in Genetics from University of Karachi and join University of Punjab as Lecturer on contract in 2004. Her background as molecular geneticist has been involved in investigating synthesis of biodegradable plastic by indigenous bacteria. She focuses on the analysis of cost effective production of biodegradable plastic and its commercialization. Dr. Nazia mainly emphases on genetics of the following:
1. Biopolymers
• Biodegradable Plastic from bacteria
• Water absorbents from Bacteria
2. Antibiotic Production from bacteria
3. Genetics of MDR-TB
She has international and national funded projects to carry out research on Biopolymers and Antimicrobial Compounds produced by bacteria. Currently she is supervising one postdoctoral (ICGEB-SMART Postdoctoral Fellowship) and three PhDs. Other than research activities she is also involved in academics and Administrative work. She also organized different national and international conference.
Dr. Nazia established international research collaboration for :
Biodegradable plastic research with Dr. Nehal I. Abu-Lail, Associate Professor and Associate Director, Gene and Linda Voiland School of Chemical Engineering and Bioengineering, Washington State University,118 Dana Hall Spokane Street, Pullman, WA 99164-2710, USA. Phone: 509-335-4961.
MDR-TB research with Dr Tomasz JAGIELSKI, Department of Applied Microbiology, Faculty of Biology, University of Warsaw, Poland.