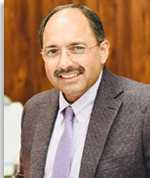 Dr. Mumtaz Anwar Chaudhry did his Postdoc in Public Policy from Harvard University (US) and received a PhD in Economics from University of Hamburg (Germany). He holds a Master in Economics from the University of Leeds, UK (1994), and International Islamic University in Islamabad (1992). His areas of interest include political economy, economic development, governance, and development policy. Dr. Chaudhry is a seasoned academic with a diversified research portfolio having extensively published in leading national and international economics journals such as Review of Development Economics, Sustainability and Science of the Total Environment and wrote number of reports and policy papers. Over the years, Dr. Chaudhry has gained global insight due to his participation in various international conferences and as a research fellow at Hamburg Institute of International Economics (HWWI), Johnson Shoyama Graduate School of Public Policy (Canada), Harvard University and teaching courses at University of Saskatchewan (Canada).
Dr. Chaudhry served as Director of Punjab Economic Research Institute (PERI), Planning and Development Department, Government of Punjab. In his role at PERI, Dr. Chaudhry was spearheading research projects on prevalent socio-economic issues to support the planning and development work of the Punjab Government. By being in liaison with the government officials, he helped bridge the gap between academic research and policymaking. This is being done through collaborations with local universities and international development partners such as UNICEF and the World Bank. Given his proactive outlook, Dr. Chaudhry had brought recognition to the institute by organizing economic forums, capacity building workshops, and forming partnerships with other government and private organizations for research and development activities.
He is also Managing Editor of "Pakistan Economic and Social Review". Dr. Chaudhry is active in doing community service as a member of University Syndicate and President, Punjab University Academic Staff Association.