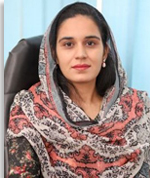 Amara Malik joined DOIM as lecturer in 2012. She did her PhD, MPhil and Master (with distinction) from the same Department. Before joining DOIM, she has served at the Institute of Administrative Sciences (PU) as a librarian. A number of her research papers have been published in international journals (Information Development, Information and Learning Sciences etc.). She has also presented her research work in many international and national conferences and has participated in many seminars and workshops.
She enjoys a diverse experience of teaching variety of courses such as LIS as Profession and Academic Discipline, Information Services, Personal Information Management, Collection Development and Management, Emerging Technologies, Advanced Management and Leadership to Master and MPhil programs at DOIM. Apart from that, her research interests include LIS education, digital references services, social media and emerging technologies in the field.
Among her other responsibilities, she is a focal person of the Department for various committees at university level: Career Counseling & Placement Services, ORIC, QEC to name a few. She served as convener in International Conference of Information Management and Libraries (ICIML) twice in 2015 & 2018.