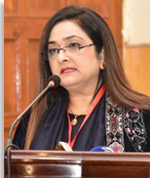 I got distinction in Masters and MPhil degrees from University of the Punjab. I pursued my doctoral degree in Social Work from Universiti Sains Malaysia. I was declared "GOT" (Graduate on Time) by the foreign University. I have more than 30 research publications in national & international peer reviewed refereed journals. My academic and research interest areas include social work education & practice, sustainable social development, social risk management; social protection policies; feminization of poverty; human rights; gender & development; globalization; and women entrepreneurship.
I have worked with various national and international organizations as research consultant including Planning & Development Department Punjab, Pakistan Institute of Development Economics (PIDE), HomeNet Pakistan, SDPI, DTCE-UNDP, Hajj Research Cluster USM Malaysia, Human Rights Department Punjab, Social Welfare Department Punjab. I am also working as trainer and conducting workshop and seminars with different government/non-government institutions like NCRD Islamabad, PPMI Islamabad, Social Welfare Training Institute Lahore, Ministry of Human Rights Punjab. I am also actively involved in advocating social work education and practice and have memberships of various community development and welfare organizations like Sundas Foundation and Falah-e-Darain Trust.
I have played a major role in initiating PhD program in the Department of Social Work. Being HEC Approved PhD Supervisor in Social Work, I am supervising PhD and MPhil research scholars. In addition to my academic responsibilities, I am also working as member Departmental Doctoral Committee, Faculty of Behavioral & Social Sciences, HEC Curriculum Development Committee. I have been external examiner and visiting faculty member in various universities. I have participated in numerous national and international conferences, trainings, workshops and seminars and has also presented my research work there.