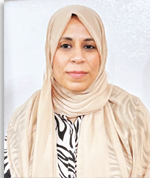 I, Dr. Saima Arshed working as Assistant Professor in Department of Mathematics. I have completed my Ph.D. in March 2015 and become Assistant Professor. Before that I was performing my duties as Lecturer (May 2006 to March 2015) in Department of Mathematics.
My research interests are finding the analytical and numerical solutions of ordinary and partial differential equations using Spline, B-Spline collocation methods and fractional multistep methods.
The manuscript titled "Numerical solution of time-fractional fourth-order partial differential equations" has been published in International Journal of Computer Mathematics (Impact Factor 0.577).