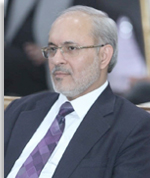 Dr Khalid Mahmood is an ambitious, energetic and renowned personality of library and information science (LIS) in Pakistan and overseas. He has completed his HEC sponsored post-doctoral research at Department of Information Studies, Graduate School of Education & Information Studies (GSE&IS), University of California, Los Angeles (UCLA), USA (2010-2011). He did his masters (1989) and PhD (2004) in LIS from the University of the Punjab, Lahore. He also completed masters in Islamic Studies and Bachelor of Laws (LLB) from the same university. He completed Postgraduate Diploma in Library Management from Haagse Hogeschool, Netherlands in 1996.
Dr Khalid started his career as a college librarian at the Education Department, Govt. of Punjab (1989 to 1991) and then as a Librarian at Quaid-e-Azam Library, Lahore (1991 to 1993). He joined the Department of LIS, University of the Punjab in 1993 as a lecturer. He was selected as an Associate Professor (2004) and Professor (2005). He served as Chairman of the Department (2006-2009). The Department achieved remarkable progress under his dynamic leadership. He has also worked as a visiting faculty at Institute of Communication Studies, Hailey College of Commerce, Department of Special Education, Department of Political Science and Department of Economics, University of the Punjab and taught various courses at PhD, M.Phil and master levels. He has been an instructor for CDS/ISIS, LAMP and Library automation at Pakistan Library Association Computer Training Centre, Lahore since June 1993 and has conducted many courses on various aspects of library automation.

He is the author of 118 research papers published in national and international journals of repute. He has contributed seven books. He is the chief editor of a well-known scholarly publication, i.e., Pakistan Journal of Library and Information Science. He is the member of editorial boards of the following international and national LIS journals: Information Development (Sage Publications, USA), Library Philosophy and Practice (LPP) (University of Idaho, USA), Webology (University of Tehran), and Pakistan Library & Information Science Journal (Library Promotion Bureau, Karachi).

He is the approved PhD supervisor of Higher Education Commission of Pakistan (HEC) and has supervised many masters, M.Phil and PhD theses. He has developed numerous projects related to research and library automation for different local and foreign organizations. He has attended above 100 workshops, seminars etc as a resource person and/or participant. He has secured many research and travel grants from local and foreign agencies. He has presented several research papers in international and national conferences.

He has been serving the community as an active member of following academic committees: HEC-National Curriculum Revision Committee in LIS (Co-Convener); NTS-Subject Committee in LIS (Convener); Punjab Library Foundation (Member Board of Governors); Government Punjab Public Library Lahore (Member Board of Governors); Council of Social Sciences (COSS), Pakistan (Member); Pakistan Library Automation Group (President); Pakistan Library Association (Life Member); Punjab University Library and Information Science Alumni Association (PULISAA) (Life Member); Pakistan Bibliographical Working Group (Regional Vice-President, Punjab); Pakistan Bibliographical Organization (Vice-President); PLA Computer Training Center Lahore (Member Program Committee); University of the Punjab Lahore (Member Senate, Academic Council and Board of Studies in LIS); International Islamic University Islamabad (Member Experts Committee in Lib. & Inf. Management); University of Sargodha (Member Program Advisory Committee in LIS) and Iqbal Academy Pakistan (Member Library Committee). He has also been a member of Board of Studies in LIS of University of Baluchistan Quetta, Bahauddin Zakrya University Multan, Allama Iqbal Open University Islamabad, and GC University Lahore.
Area of Specialization
Use of information technology, bibliometrics, library technical services and LIS education and research.