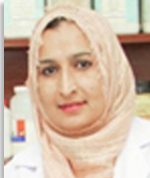 Dr. Rukhsana Perveen is an assistant professor of forensic Science and head of "Forensic Population Genetics Lab" in the Center for Applied Molecular Biology (CAMB) University of the Punjab Lahore. She is a forensic investigator with extensive forensic DNA analysis experience, which she gained while working in Pakistan's first DNA Typing laboratory for more than a decade.
Dr. Rukhsana had the opportunity to work with worlds best forensic Scientists in the Strand Analytical Laboratories Indian Appolis, Indiana, USA. She has solved more than 500 parentage and criminal cases (murder, assault and rape, plan crash, and bomb blast). In order to provide justice, it was equally vital to forensically educate medico legal Doctors and law enforcement authorities. To that end, she organized many training workshops and seminars focusing on the collection and preservation of evidence materials.
Dr. Rukhsana received a master's Degree in chemistry and a M.S Degree in Molecular Biology from University of the Punjab. She earned her PhD in Molecular Biology with specialization in forensic sciences from centre of excellence in molecular biology, University of the Punjab.
Dr. Rukhsana is HEC approved supervisor, her M.S and Ph. D students are investigating the forensic efficacy of Genetic Markers (mitochondria, Y-Chromosomal STRs and autosomal STRs) as well as ancient DNA, forensic Proteomics, DNA phenotyping, and Epigenetics at her lab. In Y-HRD, she has contributed over 700 different Y-chromosomal haplotypes. She's also a contributor for the EMPOP. She has authored over 21 research publications in peer-reviewed journals and successfully completed P.U projects assigned to her in 2017 and 2021. Dr. Rukhsana received a performance evaluation award from the honorable vice chancellor of the Punjab University from 2016 to 2021.