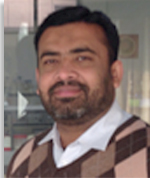 MUHAMMAD BILAL, joined the CAMB as a Research Officer in 2006 (Biopharmaceutical Division). Areas of expertise are gene cloning and expression, Fermentation, Protein Purification method development, Lyophilization, Western Blotting, Spectroscopy, Chromatography (FPLC, HPLC), Manufacturing and Quality Control of bio-molecules like Insulin, G-CSF and Interferon, SSR marker studies in plants, Plant protein studies and Cell Culturing.
He Completed M. Phil (Molecular Biology) studies in year 2010-2012 and enrolled in the PhD program in CEMB, University of the Punjab, Lahore. He has published eight (8) articles in different peer reviewed journals. Recently, he is working in the CAMB Proteomics Laboratory and his research interest includes:
Gene Cloning and Expression Studies.
Isolation of plant derived proteins and to analyze their therapeutic effect.