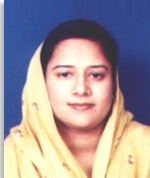 Dr. Saima Saleem is working as Assistant Professor at the Institute of Quality & Technology Management, University of the Punjab, Lahore since 2014. Previously, she was Lecturer at the same Institute since 2004.
She has done PhD in Chemistry from University of Leicester, United Kingdom. In addition, she has the degree of Masters in Quality Management and had completed the coursework of PhD in Total Quality Management.
She is supervising students of Ph.D and MS Total Quality Management, M.Sc Quality and Performance Management and BSc Industrial Engineering and Management.
Her research interests are in the areas of TQM & Chemistry and main titles are Human Resource Management, Organizational Behaviour, Health, Safety and Environmental Management, Strategic Management, Quality Tools and Techniques, Supply Chain Management, Total Quality Management, Electrochemistry, Surface Finishing, Electropolishing and Ionic Liquids.