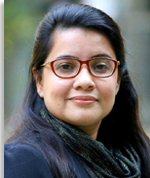 Dr Syeda Hina Batool is Assistant Professor in the Institute of Information Management, University of the Punjab, New Campus, Lahore, Pakistan. Currently, she is serving as a postdoc research fellow and visiting professor at University of British Columbia, Canada. She has been awarded Punjab Higher Education Commission, International Postdoc Fellowship to conduct her research at UBC (among top ten QS subject ranking university). In 2016, she did her PhD from ISchool, University of Sheffield, UK (No.1 university in QS Subject Ranking 2021). Her research interests focus on examining information literacy instruction and related literacies (health, digital, workplace, visual, media etc.), through qualitative research lens.
She is serving at various national and international forums. Recently she has been elected as Chair-Elect South Asia Chapter, ASIS&T;(2022). She served as social media manager and web master in South Asia Chapter, ASIS&T;and SIG III, ASIS&T;actively during 2020 and 2021.
She has published a good number of peer reviewed articles in prominent journals of the field including Information Technology & People, Online Information Review, Information Development, Library Hi Tech, Libri, LISR, Information Discovery & Delivery etc. She attended several international and national conferences and presented her research papers. She conducted numerous workshops nationally on different learning skills (information literacy, use of social media) included qualitative research, Literature mapping, Proposal writing, Mendeley and NVivo software. Among her other responsibilities, she is editor of the Pakistan Journal of Information Management & Libraries and Editorial board member of one of the prominent journals of the field Libri.