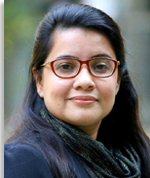 Dr Syeda Hina Batool is Assistant Professor in the Department of Information Management, University of the Punjab, New Campus, Lahore, Pakistan. She did her PhD from ISchool, University of Sheffield, UK. She passed her Mphil and Master's degree from University of the Punjab with distinction.
Her primary research interest is investigating information literacy (IL) and information seeking. However, her other key research areas are school libraries, library management and ICT (information communication & technology) applications in information centres. She attended a number of international and national conferences and presented her research papers. She conducted numerous workshops within and outside university on different learning skills (information literacy, use of social media) included qualitative research and NVivo software.
Among her other responsibilities, she is editor of the Pakistan Journal of Information Management & Libraries, which is biannually publishes from the Department of Information Management. She is the coordinator of internship program and organizer of departmental events.