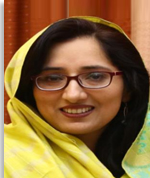 Introduction:
Nosheen Fatima Warraich Joined faculty of department of Library & Information Science in 2008 and is a motivated and committed young scholar. She received her PhD from University of the Punjab in 2011, on the topic of "Human Resource Management in the University Libraries of Punjab". Thematically, she works on areas like HRM practices in Libraries, Web Usability, Digital libraries, Use of E-sources in Universities, Library Education and Curriculum, LIS job market and employability skills etc. Primarily, she is proficient with quantitative methods but uses qualitative stuff as well in her research.
Currently, she is working as Assistant Professor Tenure Track in DLIS-PU. Her career is beautiful amalgamation of librarianship as well as teaching. She did her graduation from Lahore College for Women University Lahore in 1999 and masters from Department of Library & Information Science, University of the Punjab, Lahore (DLIS-PU) in 2001.
She has 10 international publications, 4 national publications and 7 international conference papers at her credit. Her papers have been accepted in prestigious conferences of her field, held in countries like USA, Canada, Sweden, Malaysia and Pakistan etc. Her research has been published in popular Journals like Electronic Library, Education for Information and Library Management etc.
She has the honor of winning Info-share award twice, for the years of 2010 and 2011, from American Society for Information Science and Technology (ASIST). She has organized and participated as resource person in many seminars, conferences and workshops held for teachers as well as librarians, with the assistance of Higher Education Commission of Pakistan, Punjab University Library, Department of Library and Information Science, Institute of Administrative Sciences and Research Office of PU. She has also provided consultancy to a project of Punjab Education Foundation, Government of the Punjab, as a research analyst.
She is vibrant professional as she is Secretary PULISAA (Punjab University Library and Information Science Association), 2012-2014, Joint Secretary Pakistan Library Automation Group and Chair Continuing Professional Development Committee of PULISAA etc. Besides that, she is member of many professional as well as academic organizations and committees like Quality Enhancement Cell DLIS-PU, American Society for Information Science and Technology (ASIST), Literati Club Emerald insight, Department Doctorate Programme Committee (DDPC) in DLIS-PU, Research focal person of DLIS in the research office of PU, Board of Studies in DLIS-PU, Punjab University Academic Staff Association, Punjab University Library and Information Science Alumni Association (PULISAA) and Pakistan Library Association etc. The bibliography of her research and her CV can be found in the links given below.

Area of Specialization
Human resource management in libraries, digital libraries, application of quantitative research in LIS and digital libraries.