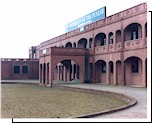 Institute of Business Administration at Punjab University, Lahore is factually the parent Department of Business Administration at Gujranwala Campus. Therefore, it is imperative to firstly know about Institute of Business Administration. The teaching and training of professionals in the field of commerce and industry was started in the University of the Punjab, Lahore and for this purpose the Department of Business Administration was established in 1973. It was upgraded to the status of an Institute in 1989.
The Department of Business Administration at Gujranwala Campus offers an MBA (Morning Program) which is exclusively designed for fresh graduates, an MBA (Evening Program) which is designed for busy Executives.
The MBA (Morning and Evening Program) is a two-year, full time program leading to a Master degree in Business Studies. Marketing, Information Technology and Finance are the three areas of specialization which are offered in the program. The latest knowledge about information technology is also provided during the studies through intensive compulsory courses. The admission to this program will be made strictly on the basis of merit.
The semester system is observed in the course and the examination. In addition to the formal examination, marks have been assigned to quizzes, class room presentations, etc.