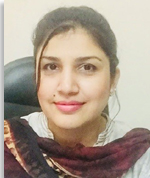 Dr. Saima Siddiqui is Associate Professor at Department of Geography. From September 2005 to May 2013 she was Research Officer/Lecturer in the Center for Integrated Mountain Research (CIMR), Punjab University. In June 2013 she was promoted as Assistant Professor in Department of Geography, after successfully completing her Ph.D. degree in Earth System Sciences: Environment, Resources and Cultural Heritage from the Department of Chemical and Geological Sciences, University of Modena and Reggio Emilia, Italy. During her four years PhD research experience in Italy she has dynamically participated in a number of research seminars, training courses, teaching activities of the ESS doctorate school, national and international conferences and research excursions. She has won two international awards, i.e. IAG/AIG Young Geomorphologist award in 2009, from International Association of Geomorphologists (IAG) in Australia and Giannino Bassetti Foundation award in 2012, in Italy. She was member of organizing committee of 3rd AIGeo National Conference held in September 13-18, 2009 in Modena, Italy. Besides her teaching activities to the degree courses, she is also involved in various research activities and is a member of several National and International Scientific Associations. She is expert in physical geography, tectonic geomorphology, geomorphological and seismic hazards assessment, GIS and Remote Sensing. She published many research articles and HEC recognized national and international journals. Some of her impact factor (Journal Citation Reports®, Thomson Reuters) publications are following:
Siddiqui S., Castaldini D., Soldati M. (2017) - DEM-based drainage network analysis using steepness and Hack SL indices to identify areas of differential uplift in Emilia–Romagna Apennines, northern Italy – ARABIAN JOURNAL OF GEOSCIENCES – volume no. 10 issue number 3. doi:10.1007/s12517-016-2795-x. (JCR Impact Factor: 1.224)
Siddiqui S., Soldati M., Castaldini D. (2015) - Appraisal of active deformation from drainage network and faults: inferences from non-linear analysis - EARTH SCIENCE INFORMATICS – volume no. 8 issue no. 1- pp. 233-246, ISSN 1865-0473, DOI 10.1007/s12145-014-0156-4. (JCR Impact Factor: 1.524)
Siddiqui S., Soldati M. ( May 2014 ) - Appraisal of active tectonics using DEM-based hypsometric integral and trend surface analysis in Emilia-Romagna Apennines, northern Italy - TURKISH JOURNAL OF EARTH SCIENCES - volume no. 23 issue no. 3- pp. 277-292 ISSN: 1300-0985 (JCR Impact Factor: 1.299).