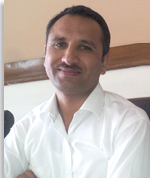 Dr. Amjad is currently working as "Assistant Professor" at Center for Applied Molecular Biology (CAMB), University of the Punjab, Lahore. He has obtained his Ph.D. degree in Health Biotechnology from University of Malakand, Khyber Pakhtunkhwa in April 2015. He started his professional career as Research Associate at Department of Biotechnology, University of Malakand and awarded one year internship by Higher Education Commission (HEC) under the "Project Support to Scientific Talent". He has held the responsibilities as a Principal Investigator in HEC funded project entitled "Expression of different immunoreactive forms of the hepatitis C Virus NS5A recombinant protein and their use for the development of ELISA assay".
Dr. Amjad has published more than 21 research articles in various reputed international journals with total impact factor more than 40 and developed indigenous diagnostic immunoassays for the screening of HCV infection for the first time. Currently, M.Phil and PhD research students are working in Virology lab under his supervision and co-supervision to develop diagnostic immunoassays for Dengue, HPV & HSV.
Dr. Amjad is HEC approved supervisor and author of three books internationally published. He is also a potential reviewer and editor of various International Journals. He is quite familiar with most of the Microbiology and Molecular Biology techniques such as DNA/RNA extraction, PCR/Real-time PCR, sequencing, cloning, expression studies etc. and has immense potential to learn and master the new techniques. He had also worked in project entitled "Dental Investigation of the Biological Origins and Interactions among Ethnic Groups of Northern Pakistan" and received outstanding performance certificate from California State University, Bakersfield, US.