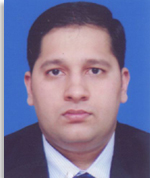 Ongoing Research Projects and Supervision
M.Phil Student (2016-2017): Targeting Hepatocellular Carcinomas by lentiviral mediated downregulation of cancer metabolism genes either single or in combinations.
MSc Student (2016-2017): Isolation and screening of novel Bacillus strains for the production of amylases: Product optimization, characterization and partial purification.
B.S Student (2016-2017): Alkaline proteases produced by novel Bacillus strains for potential industrial applications.