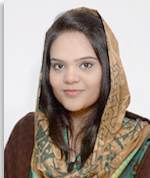 She is working as a research officer (BPS- 18) at the department of Microbiology and Molecular Genetics, since November, 2016. She is teaching chromosomal abnormalities and genetic counseling at post graduate level. She is also the member of educational societies at the department i.e. MBERS (Molecular biology education and research society) and Biosafety and Bioresource committee. Besides, she is also the member of student affairs committee. Furthermore, she is involved in arranging conferences, seminars, workshops and events in the department as a member of organizing committee.
She has successfully completed my BS with CGPA 3.69 (stood 2nd in order of merit) and MS with CGPA 3.97 (stood 1st) from the same institute. Her BS research thesis was on 'Effect of nickel on adherence, hydrophobicity, aggregation and biofilm formation of salt tolerant bacterial strains'. While in MS, she worked on 'Effect of crude extracts of Acacia and Eucalyptus on biofilm forming abilities of bacteria from peptic ulcer'. Presently, she is a registered PhD student (session 2015-19) and working on Metallo-beta lactamase producing Pseudomonas under the supervision of chairperson department of MMG, Professor Dr. Anjum Nasim Sabri.
Her research interests are biofilms, MDRs, immunology and Cancer Genetics.