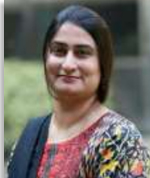 Dr. Saira Hanif Soroya is an energetic, and ambitious young professional in the field of Information management. She has completed her HEC sponsored Ph.D. from University of the Punjab in 2016. She did her Masters (2004) and M.Phil (2011) from the same university. She scored highest CGPA in M.Phil. and Ph.D.
Dr. Saira started her career as librarian from University of the Punjab (2008-2016), during this period she joined university of Sargodha as lecturer (January, 2013 to November 2013). Currently she is serving as assistant professor at DoIM, PU, Lahore. She has published her research work in well reputed International and National journals. In addition, she has presented her research papers in International and national conferences as well. She is a professional trainer and served as resource person in several trainings in various universities of Pakistan. She has also served as managing editor of "International Journal of Information & Management Sciences".

Areas of Specialization: Marketing of Information Products and Services; Information Behavior; Collection Management; Client centered library services; Digital paradigm shift; Mixed Method Research Applications; Public Libraries.