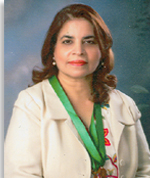 [Currently holding Prince Claus Chair at Utrecht University, Netherlands]
Professor Dr. Nasira Jabeen is Dean Faculty of Economics and Management Sciences and Director of the Institute of Administrative Sciences at the University of the Punjab, Lahore. She has a Post Doctorate from the University of Texas, Austin (USA) and PhD from the University of Stirling, UK. She received her Master of Public Administration degree from the University of Southern California, USC (USA) as well as from the University of the Punjab, Pakistan. Dr. Nasira Jabeen was appointed Professor to the Prince Claus Chair at University of Utrecht, Netherlands for the year 2006-07. She is the recipient of Central Overseas Training Scholarship, Post-doctoral fellowship and the Nishan-e-Haider scholarship (Presidential Award) based on her excellent academic performance. She has served as President of Association of Management Development Institutions of Pakistan (AMDIP) and organized faculty development programs to strengthen the linkage among public and corporate sector universities. She has published her work with national and international journals and has representation at various esteemed bodies and committees including Association of Commonwealth Universities, University of Utrecht, Doctoral Committee, and member Syndicate, governance, selection boards and Quality Assurance Agency (QAA), HEC. Professor Jabeen has experience of working with international development organizations such as UNICEF, Canadian International Development Agency (CIDA), Asian Development Bank (ADB), the World Bank, Governance Institutions Network International (GINI), British Council and Ministry of Education as Human Resource Development (HRD) Consultant. She has contributed towards teaching at the Civil Services Academy, National Management College, Police Academy and other management institutions and HEC. She has published her research work in international and national journals. Her research interests include Governance, Public Management, Gender, Human Resource Management, and Organizational Change and Development. Professor Jabeen has participated in various international conferences and received best paper awards and recognition from Australian Academy of Business and Leadership, NewYork International Business and Social Science Research Conference and Association of Commonwealth Universities (ACU) etc. As part of her community contribution she is serving as member of the steering committee of HR in Higher Education Community, ACU, Punjab Commission on Status of Women and chairperson of AWAZ CDS a local NGO working for the national cause in South Punjab, Pakistan. She has lead several social campaigns in collaboration with Akhuwat, Fountain House and Fatmid Foundation to organize students, faculty and community to provide relief to the affected people in times of national disasters i.e. Kashmir earth quake, Thar famine, floods, Bahawalpur tragedy etc. from the platform of IAS.

Message from the Dean and Director
The Institute of Administrative Sciences provides a dynamic learning environment with strong emphasis on quality and interdisciplinary education to meet governance and management challenges faced by government, business and non-profit organizations. At IAS, students choose a program of studies from the independent yet related fields of Management, Public Administration, Public Policy, Health Administration, Marketing and Human Resource Management. Students are supported by the highly committed faculty and caring staff who contribute to the high quality of education with strong sense of IAS community.
Based on its longstanding reputation of excellence and impact within the field, IAS vision is to create and disseminate globally and locally relevant knowledge to improve quality of life for people and communities through effective leadership and management of organizations. To realize this vision, IAS offers a wide range of undergraduate, graduate and postgraduate programs. The institute offers a carefully designed blend of theory and practice which incorporates classroom learning with internships, field based research and immense experiential learning. Strong focus on leveraging the human potential, personal grooming, citizenship behavior and professional ethics is also placed. As a result of this holistic approach our students graduate with a complete arsenal of knowledge, skills, attitudes, and experience which enables them to recognize the positive social and economic change in the society and lead in their chosen field of practice / professions.
The 21st century is a multipolar world where the movement of ideas, technology and people across continents and within countries takes place at a breathtaking pace. In such a complex global world Pakistan faces multidimensional challenges which can only be met by leaders who are sensitive to diversity, quality, integrity and virtual reality to work across public, private and non-profit sectors. IAS prepares its graduates to become such leaders.
On behalf of the faculty and staff, I invite you to consider IAS as your alma mater and join us in your journey of self-directed learning. I am sure your education at IAS will be a rewarding learning experience opening new windows of opportunities in your lives.
We look forward to welcoming you at our institute.