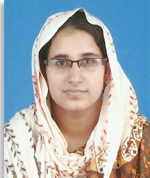 I, Dr. Tabassum, is working in Seed Biotechnology Group, CEMB with Professor Dr. Idrees Ahmad Nasir.
I am Gold medalist, Academic roll of Honor holder and HEC Approved Supervisor. My specifc field of research is Crop Protectionfor which me and my group make use of all available molecular biology tools to develop a product with sustainable yield output.
My group is recently engaged in development of transgenic potato tolerant for drastic climate changes.We have also developed fungus tolerant transgenic potato lines.
My group has developed genetically modified insect and glyphosate resistant hybrid corn. Non transgenic CEMB-hybrid corn was evaluated by Maize and Millet Research Station, Sahiwal, Pakistan and rated among the top five hybrids out of 1050 hybrids tested.
We have also developed first local transgenic sugarcane containing four genes. The transgenic sugarcane will help to increase the farmer yields up to 10-15%.
My previous work includes; Development ofPVY tolerant potato lines by employing RNA interference technology. The product has been developed. Established protocols for the mass production of pre-basic virus free seed potato. Our disease free Potato seed is being marketed by a private seed company, M/s AGB Seeds Pvt. Limited.Also developed synthetic seed of cucumber through somatic embryogenesis and synchronization.
Seven M. Phil students have been awarded with degrees under my direct supervision. While fourPh.D students are currently enrolled with me. More than 10 internship students from various Pakistani Universities have been trained. Taught Molecular biology and plant virology courses to M.Phil and Ph.D students.Published over 30 research articles in scientific journal with impact factor. Also published two book chapters, discovered 29 novel genes, and won three research projects as co-PI.