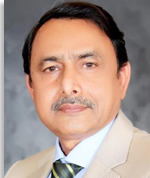 With a zeal and dedication for education, joined IER as lecturer in 2001;have honour of being founding member of the committee constituted by the Vice Chancellor to launch MA ELTL; served as teacher and Co-ordinator of the department up to this date besides working as Incharge of the department for more than two years.
Graduated from Govt. College Sahiwal and hold Master's degrees in English Literature, TEFL, and Education;honoured with a gold medal in M.PhilTESL : completed coursework of Ph.D (Applied Linguistics) from IIU, Islamabad and working on thesis.
Also supervised 9 M.Phil theses besides several MA theses at IER: got two papers published in national journals and three papers have been accepted for publication: participated in national and international conferences held in Pakistan.