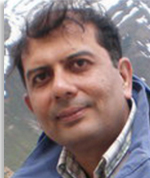 Prof. Dr. Syed Nawazish-i-Husain is the senior most faculty member, who has been working with the Punjab University College of Pharmacy, since January, 1994. He has been teaching Physiology, Pharmacology and Pharmacy Practice to the under- and post-graduate students of Pharm-D, M.Phil and Ph.D., in addition to supervising the research projects of the later. Presently, he is also looking after the teaching and research activities of overall Physiology and Pharmacology section in addition to several tasks of academic and administrative nature assigned by the superiors. Previously, he had been working as a Pharmacist in Drug Information and Poison Control Centre, as well as Infectious Diseases Hospital in Ministry of Public Health, Kuwait.
Prof. Dr. Syed Nawazish-i-Husain has been a member of most prestigious legitimate bodies of the University, faculty and the College, which includes Senate, Syndicate (2002-2005), Academic Council, Board of Faculty and Board of Studies (Faculty of Pharmacy), Departmental Doctoral Programme Committee, Animal and Ethical Committee etc. to name a few.
He obtained his B. Pharmacy and M.Phil. (Pharmacology) degrees from now the Punjab University College of Pharmacy, University of the Punjab, Lahore, Pakistan and Ph.D. (Pharmacology) from University of Strathclyde, Glasgow, UK. Following his doctorate degree he undertook post-doctorate assignments at SIPBS, Glasgow UK, where he worked in the mentorship of Dr. Charles Kennedy and Professor R. L. Jones. Here, he investigated to characterize Prurinergic and Prostanoid receptors both at functional and expressional levels in a variety of blood vessels and dissociated cells and thereafter exploring signalling pathways involved in their activation in native tissues or cells as well as cloned receptors. During his stay at University of Strathclyde, Glasgow he used a variety of pharmacological, biochemical and molecular biological techniques which included Myography, RT-PCR, Western Blotting, Immunohistochemistry and Ca2+- imaging to name a few. He is a member of British Pharmacological and The Physiological Societies of UK. He has also been reviewing articles for several prestigious journals, like British Journal of Pharmacology and Life Sciences.
Professor Syed's research aims to characterize and explore various signaling pathways involved in Purinergic and Prostanoid receptors at tissue and cellular levels. Currently, Ph.D. and M.Phil research scholars are carrying out their research projects under his supervision in the labs of Pharmacology. He has published research data in several renowned journals of Pharmacology, which includes British Journal of Pharmacology, Journal of Pharmacology and Experimental Therapeutics, Purinergic Signalling, European Journal of Pharmacology and PLEFA, to name a few. His lab has a friendly but diligent working environment.