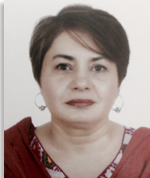 Currently Working as Vice Chancellor University of Home Economics, Lahore
Chief Editor, Pakistan Journal of Library and Information Science
Chair, 2nd International Conference on Information Management and Libraries, 10 Oct. 2018
Chairperson, May 2009 - May 2018
Research Fellow as Professor, University of Tsukuba, Japan. 2013
HEC Best Paper Award, 2015/16
HEC Best Teacher Award 2010
Fulbright Post-Doc, University of Missouri, Columbia, USA (2009-2010)
Fulbright Pre-Doc, University of Texas, Austin, USA (2000-2001)
Prof. Kanwal is a dynamic, innovative, committed person who is known nationally and internationally in the area of Information Management and Libraries. She has got a number of international and national awards/scholarships and has produced more than 140 publications including Impact Factor and international refereed journals, conference proceedings, as book & book chapters beside 9 PhDs and 19 MPhils.
As Chair, DoIM, Dr. Kanwal worked hard to enhance the quality of the academic and research program in all possible ways. It includes new building & enriched infrastructure, development of faculty & administrative staff, various measures to raise financial resources, national and international visibility to mention a few. As a result, the Dept. enjoys a leading position in Pakistan and got the membership of the international associations CiSAP (Consortium of Schools of Asia Pacific) in 2011, CILIP (UK) and ALISE (USA) in 2015 to get international visibility.
Dr Kanwal serves on organizing committees of various international conferences and chaired sessions (ECIL, ASIST, A-LIEP). She is member of various committees of the PU: TTS Committee, Budget Committee, Semester Implementation Committee to name a few. Member, Higher Education Commissions' Sub Committee on LIS Curriculum, Also, she is a member of American Library Association; Special Library Association, USA; American Society of Information Science & Technology (ASIS&T); Charted Institute of Library and Information Professional (CILIP, UK)
She was Chair of the Centennial International Conference on Information Management and Libraries, 2015, Co-Chair Visual presentations, ASIS&T Conference in Washington, 2017; Secretary, International Federation of Library Association (IFLA)'s Special Interest Group on LIS Education in Developing Countries; Country Representative, SLA, 2016.