Message from the Dean
Welcome to the Faculty of Economics & Management Sciences (FEMS) – a prestigious seat of learning in the field of economics and management offering a broad range of specialized academic degrees ranging from undergraduate to graduate and postgraduate level. Keeping in view global and indigenous requirements, the programs offered by the faculty aspire to advance state-of-the-art knowledge and cutting edge research skills ensuring academic rigor, relevance, quality and excellence for developing insightful leadership, economic development and improving quality of life for people and communities. We are committed to provide a congenial environment that fosters collaborative learning, stimulates innovative thinking and nurture leadership to benefit the national economy and larger humanity.
The Faculty comprises of the following teaching institutes / departments:
1. Institute of Administrative Sciences
2. Institute of Business Administration
3. Institute of Business & Information Technology
4. Department of Economics
5. Department of Information Management
6. Department of Business Administration (Gujranwala Campus)
7. Department of Administrative Sciences & Business Administration (Jhelum Campus)
We believe that the wide range of programs offered by the faculty of Economics and Management will equip you with knowledge, skills and desired attitudes for professional positions in your chosen areas. We assure you that an academic learning and education experience with FEMS will be stimulating and rewarding.
We look forward to welcoming you to the Faculty of Economics & Management Sciences University of the Punjab.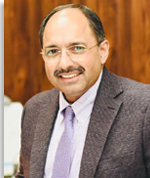 Dean
Prof. Dr. Khalid Mahmood
dean.ems@pu.edu.pk