LAHORE: (Monday, September 17, 2018): Punjab University's Dean Faculty of Arts and Humanities and Director Pakistan Study Centre Prof Dr Iqbal Chawla has said that China Pakistan Economic Corridor is road to peace and prosperity for the region and both the countries would eliminate all hurdles to this joint project. He was addressing a seminar organized by Pakistan Study Centre on China Pakistan Economic Corridor at Al Raazi Hall here on Monday.
On this occasion Jiangsu Normal University China's Director of Pakistan Research Center Prof Dr Sun Hongqi, Dean of the International College Prof Zhang Shengzhe, Deputy Dean of the International College Mr Zhen Yutong, Director of the Social Science Academy Professor Lou Zhengrong, Analyst Muhammad Mehdi, Dr Amjad Abbas Magsi, faculty members and a large number of students were present.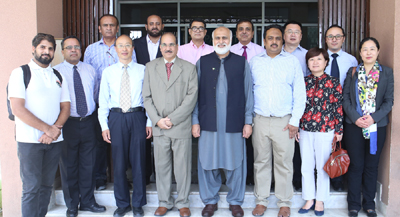 Addressing the seminar, Dr. Chawla said that silk route was an ancient route and OBOR is the revival of old silk route. He said that with every passing day, Pakistan and China were coming closer and CPEC was the culmination of their relationship. He said that some international powers were scared of China's emergence as second super power of the world. He said that they were creating hurdles in the development of CPEC & OBOR. He said that the development of infrastructure had mostly taken place and now the time had come to develop the least developed areas of Pakistan. He said that there was no need of confusion about this project which is win-win for both the countries. Addressing the seminar, Prof. Sun expressed his views that OBOR was put forward in 2013 and it had been welcomed by most countries of the world and reached great achievements. He said that in the past five years, the amount of trade between China and the countries along OBOR had enhanced rapidly and the construction of OBOR provided more than 200,000 jobs for local people. He said that but some countries trying to hinder China's development. He said that CPEC was the most important part of OBOR, the flagship programme in BRI. China and Pakistan could not allow the project failed. He said that Jiangsu and Punjab were brother-provinces and should join hands to construct CPEC and OBOR. He said that Jiangsu Normal University and Punjab University had cooperated for many years and surely would play more positive roles in construction of CPEC and OBOR. Prof. Zhang Shengzhen reviewed the Pak-China communication and focused on the potential cooperation in the field of education and enterprises. Mr. Muhammad Mehdi said that Pakistan desires new trade routes from its soil for the growth of economy and China is investing money in many countries. He said that new dimensions on the world politics had emerged but in new circumstances, Pakistan should find new ways to play a new role.
Later, the delegation called on the Vice-Chancellor in his office. The delegation offered scholarship to students of Punjab University and stressed on more avenues for cooperation between the two universities. The Vice-Chancellor assured full cooperation from the university in enhancing the relationship specially in the field of education.