Department of Microbiology and Molecular Genetics, plays a key role in progress of biological sciences not in the university but all over the country by providing well trained manpower in the fields of microbiology, molecular biology and molecular genetics. Department have long list of collaborating institutes working together for the betterment of mankind.World Diabetes Day is a day which is held annually on November 14th and is used to bring attention to the disease called diabetes and to educate people about the impacts of this disease on human health. This day is observed in over 160 different countries and by the more than 230 member associations of the International Diabetes Federation (IDF). These events include public health workshops and seminars, World Diabetes Day bike races, the distribution of diabetes-related materials, and media events which may include television, radio and Internet publications. Individuals can celebrate the day by visiting their doctor and making sure they don't have diabetes and if they do, to get the proper treatment for it. Untreated diabetes can have a devastating effect on all of the systems of the human body - particularly, the heart, kidneys, eyes and feet. Therefore, proper treatment of this disease is a necessity.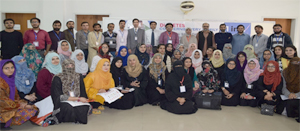 The Department of Microbiology and Molecular Genetics is also celebrating this from last 5 years with the aim "to educate the peoples about the disease and its prevention and promote research culture in the University among the students and researchers".One day Interactive workshop was organized by Prof Dr. Anjum Nasim Sabri (Chairperosn), Dr. Samreen Riaz (Asst. Prof and Focal person) Dept of MMG with Collaboration of Dr. Ahmed Naveed Bhatti (Chairman) Association of Family Physicians Pakistan PAFP and Mr. Irfan Ahmad Khan (Area Manager Lilly Pakistan).Ms. Farah Qudsia (research scholar at MMG) was workshop secretory.The event went very successful and more than 100 participants from different classes attended and presented posters for research and thematic category.

The event was sponsored by Lilly Pakistan.They also arranged diabetes camp, lunch and prizes. Sugar level and BMI of about 100 people was checked and recorded in diabetes camp. Prizes, certificates and souvenirs were distributed by Dr. Sikandar Sultan (Acting Chairperson, Department of Microbiology and Molecular Genetics).In research based posters, first prize was won by poster of Ms.FarahQudsia, second prize was for Ms. Momna Mohammad poster and Ms. Arwa Faisal and Noor-ul-Huda poster was awarded third prize. In the category of thematic posters, two posters (one by Kiran Nazeer and Rimsha Iqbal whereas other by Sumbal Sarwar, Farah Ehsan, Amna Tahir and Mahrukh Jameel) won first prize. Second prize was also for two posters of Ayesha Abid, Izzah Sadiq group and Fazilat Safdar, Tayaba Rafiq, Amina Javed group. The two posters winning the third prize were made by Abdul Hanan, Namrah Imran group and Farah Qudsia, Momna Muhammad, Arwa Faisal, Noor-ul-Huda group.

It was a very informative and thought-provoking event. Such events should also be arranged in future as they have a good impact regarding the betterment of our health.