Society of Engineering Excellence Conference (SEECON'23) Held at IEECE
Society of Engineering Excellence Conference (SEECON'23) Held at IEECE
Society of Engineering Excellence arranged SEECON'23 at IEECE, University of the Punjab Lahore. Dr. Umar Farooq, Patron SEE, was the Chief Organizer of the event while Prof. Dr. Muhammad Azhar Naeem, President ASA and Director IEECE, was the chief guest of the event. Mr. Raheel Anjum, Staff IEECE, and Miss Hania Fatima, Secretary SEE, along with volunteers Noman Javaid and Haseeb Safrdar performed management duties. A total of 5 competitions were held on various dates between April 17 and May 17, 2023. These include circuit design, speed wiring, technical paper, MATLAB programming and Simulink control design contests. A total of 70 students participated in the contests. Dr. Umar Farooq spent several hours in training the students to participate in these contests.
Technical paper contest was judged by Engr. Muhammad Arif Anwar. All other competitions were time-based i.e. students completing the tasks in minimum time were declared as winners. Dr. Umar Farooq checked the completeness of the tasks.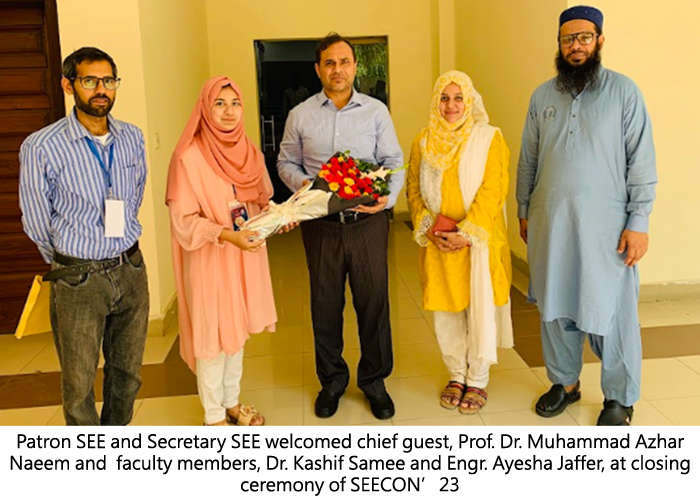 In circuit design contest, students were required to solve the given problem in prescribed amount of time and implement the solution using least number of hardware components. Umair Ali was declared as winner of the contest. In speed wiring contest, students were given a block diagram of a circuit with sufficient details for speedy hardware implementation. Umair Ali bagged first position in this contest. Second place was secured by Moeen Abbas while Syed Zulqarnain received third place. In MATLAB programming contest, students were given an algorithm with all steps and some mathematical details. They were required to implement the given algorithm in MATLAB programming environment. Syed Zulqarnain grabbed first award in this contest.

In technical paper contest, students were required to submit a technical paper to present 2 solutions to the assigned tracking control problem. After the submission process, students were required to present their findings in 3mins using PPT slides followed by questions from the judge. A total of 20 papers were submitted for this competition. Winners were selected based on their performance in the writing and presentation tasks. Saad Ullah Bhatti secured first place. Ali Tahir received second place while Fazeela Irshad grabbed third place.

In Simulink control design contest, students were given a trajectory tracking problem with details on the plant and controller dynamics. They were required to implement the problem using Simulink environment in a prescribed amount of time. Saad Ullah Bhatti secured first place, while Muhammad Faiz Raza received second place. Third award was grabbed by Abdulelah.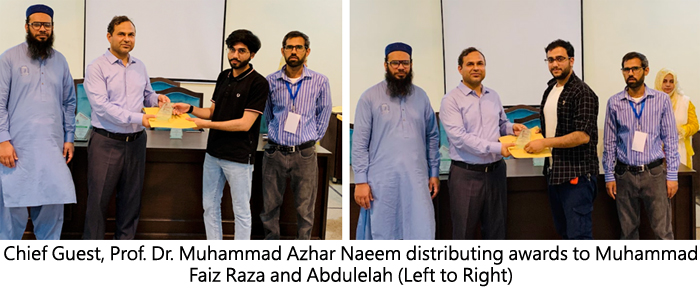 In the end, Chief Guest distributed awards and certificates to the winners, judge, and organizers while Dr. Kashif Samee and Engr. Ayesha Jaffer distributed certificates to the participants of SEECON'23. In his closing remarks, Prof. Dr. Azhar Naeem stressed the need of co-curricular activities and motivated the students to participate in these activities. He also congratulated Patron SEE and team to organize SEECON'23. Dr. Umar Farooq briefed the history of SEE and shared success stories of SEE members, who were trained by Dr. Umar Farooq to participate in various national and international IEEE/IET/ACM/ASME technical contests and earned fame for PU by wining over 75 awards in these contests a period of four years only (2008-12). Engr Ayesha Jaffar congratulated the winners and shared her views on the need of organizing co-curricular activities in addition to extra-curricular activities.