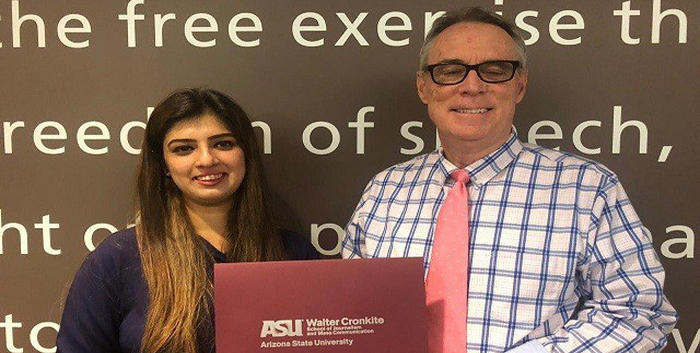 LAHORE: (Tuesday, July 2, 2019): Ayesha Ashfaq, Assistant Professor of the Institute of Communication Studies at University of Punjab completed her post-doctorate from the Walter Cronkite School of Journalism, Arizona State University in record time, becoming the first Pakistani woman to finish post-doctorate from the US in Mass Communication.
After witnessing her research work, Ashfaq was offered a chance to do her post-doctorate in the US by internationally acclaimed research scholar Joseph Rozmanov. She was also given scholarship by Punjab Higher Education Commission and she managed to complete her research work in 9 months, less than three months before deadline and obtained the post-doctorate certificate.
Before her, Professor Dr Siraj is believed to be the first Pakistani who had finished his post-doctorate from the US in Mass Communication.
Walter Cronkite School of Journalism held a party in the honour of Dr Ashfaq for her inspiring research work last week. She was lauded for her accomplishments in research and academics and was also offered an opportunity to co-author a book on the subject of 'Media and Politics' by her supervisor.
In her post-doctorate thesis, Dr Ayesha Ashfaq decoded the role of media during US presidential elections and Pakistan's general elections and connected the dots in the context of Donald Trump and Imran Khan's success in the polls.
Dr Ashfaq has been teaching in Institute of Communication Studies, University of the Punjab as Assistant Professor.
Prior to that, she has had the pride of being the youngest foreign qualified PhD in her department. Due to her research work and contributions, she is recognised and acknowledged as a notable scholar in international academic circles.
Dr Ashfaq earned her BS (Hons) in Mass Communication from the University of the Punjab and due to her perseverance she had consecutively managed to earn a 4.0 CGPA and was awarded with a gold medal. She had finished one part of her MPhil in Norway and rest of the degree from University of Punjab.
She has had more than a dozen research papers published in national and international journals. Agenda setting, media and politics, metaphors in journalism, editorial, and communication through cartoon and social media are such subjects which she is quite well-versed with and her diligence work and meticulous research is what sets her apart from her contemporaries.