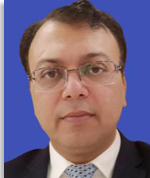 I was born in Lahore in 1981. I did my Masters in Statistics from the University of the Punjab. I obtained my Ph.D from the University of Punjab, under the supervision of Prof. Dr. Shahid Kamal. My areas of specialization are Regression Analysis, Multilevel Models, Structural Equation Models, Mixed Models and their applications.
I am HEC approved supervisor and have numerous publications in peer-reviewed national and international research journals.
I am member of Boards of Studies of University of the Punjab and GC University Faisalabad. I have also worked as a Member Punjab Technical Committee for Census 2017; Member Dean, Faculty of Science, Purchase Committee; Focal Person QEC Faculty of Science, University of the Punjab, Lahore; Coordinator M.Sc. Biostatistics Programme; Coordinator M.Sc. Business Statistics and Management Programme. I am also a member of National Curriculum Review Committee by HEC for the subject of Statistics.