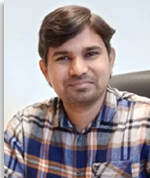 Mr. Muhammad Shahzad, after completing his M.Sc. (Applied Chemistry) from University of Engineering and Technology Lahore in 2007, joined the Forensic Services Laboratory, centre for Applied Molecular Biology (CAMB) Lahore in 2008 and started his career as forensic DNA scientist.
He has solved hundreds of cases including murder, rape, bomb blast, mass disaster identification and parentage disputes. He has attended several honourable courts to testify the DNA reports. He took part in various validation processes in the laboratory and carried out quality investigations. He has also participated in DNA training workshops conducted by CAMB.
His major research areas are forensic genetics, development of new protocol for DNA analysis and population genetics studies. He has published six papers in national and international journals and gain impact factor of 10.6.
Some highlighted cases he has solved include:

•

Identification of burnt individuals by DNA analysis in oil tanker and bus collision at Nooriabad, Hyderabad Pakistan (Published in national journal)

•

Bomb Blast Case of Data Darbar Lahore

•

Bomb Blast case of Moon Market Lahore