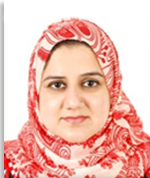 Dr. FARHEENA IQBAL AWAN, joined as Research Officer in the DNA Core Facility Laboratory of Centre for Applied Molecular Biology (CAMB) in 2008. Academically, She completed her M.S.Ed (Gold Medalist) in 2004, M.Sc (Chemistry) in 2007 and M.Phil (Molecular Biology) in 2013.
She has Research Experience of a DNA Analyst having eight year experience of DNA sequencing and genotyping. Being the member of DNA Core Facility in CAMB, she has performed the analysis of more than hundred thousand of DNA samples and contributed in successful completion of many M.Phil, Ph.D theses and in various research projects of the country. She also acted as a resource person and performed Parentage Analysis of Bovine for Breed Improvement Project of Livestock Department Punjab.
Ms. Farheena Iqbal Awan has good technical skills including DNA extraction, purification, Gene Amplification, Sanger Sequencing and Multiplex microsatellite PCR, Gel & Capillary Electrophoresis, DNA profiling using microsatellites and primer designing. Working and Handling of Capillary based Genetic Analyzers and troubleshooting the capillary based sequencer data, Use of Biological software for designing primers/probes and DNA sequencing/genotyping data analysis like ABI-Sequencing Analysis, GeneScan, Genotyper, GeneMapper, Chromas, Primer-3, GenAlExetc.
Ms. Farheena Iqbal Awan has Research Interest in Population Genetics, Phylogenetic Association, Medical Genetics and is author of eight publications having impact factor of 7.96. She has also won the project "Genetic characterization of famous farming cattle breeds in Punjab (Punjab University, Fiscal Year 2015-16, Rs 125000)
Recently she is awarded scholarship under Faculty Development Program from Overseas Scholarship committee approved Rs. 5 (M) to pursue Ph.D studies from Monash University, Australia Campus in Malaysia.