ACHIEVEMENT OF CEES STUDENT
ACHIEVEMENT OF CEES STUDENT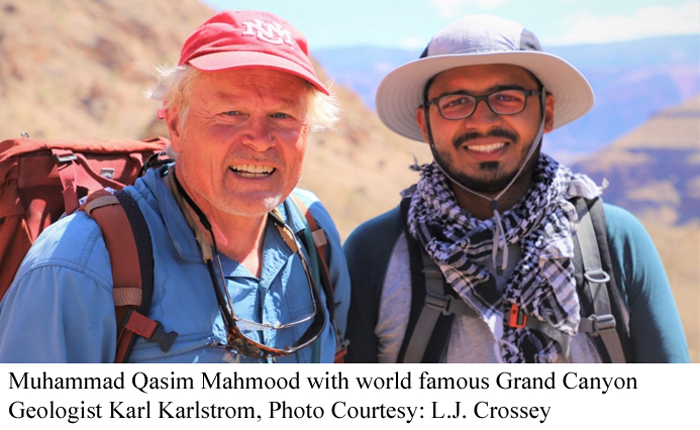 Muhammad Qasim Mahmood, student of M.Phil. Applied Hydrology degree program at the College of Earth and Environmental Sciences, University of the Punjab, Lahore has represented Pakistan at Thompson Field Forum on "Age and Carving of Grand Canyon: Towards a Resolution of 150 Years of Debate" held at Grand Canyon National Park, Arizona, from September 14-21, 2019 and at 131st Annual Meeting of the Geological Society of America in Arizona, held from September 22 – 25, 2019.
The historic field conference at Grand Canyon National Park was a 280 miles trip by raft through Grand Canyon. This Thompson Field Forum sponsored by GSA (Geological Society of America) honors the 150th anniversary of John Wesley Powell's trip (first expedition by USGS) and 100th anniversary of Grand Canyon National Park. The field conference convenors were Karl Karlstrom, Laura Crossey from Univeristy of New Mexico, Eugene Humphreys from University of Oregon, David Shuster from University of California Berkeley and Kelin Whipple from Arizona State University.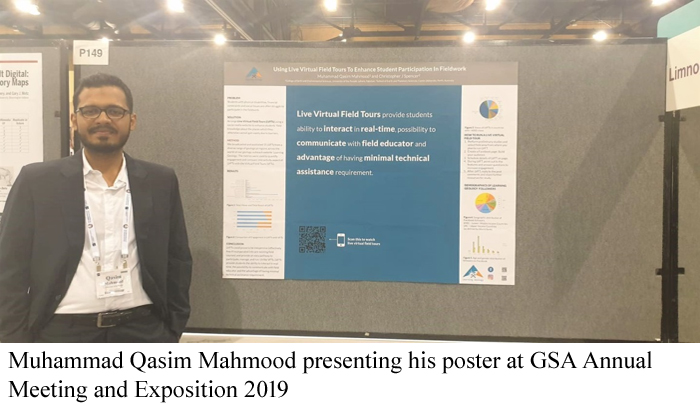 The 28 researchers and young scientists around the global top universities and organizations including ETH Switzerland, GFZ German Research Institute, University of Chicago USA, University of Grenoble France, USGS USA and NPS USA attended this conference. The evidence for the age and incision history of Grand Canyon in the context of recent advances and ongoing debates was discussed mainly.
This year Thompson Field Forum involves only 4 students out of 28 attendees who received full support to participate in this field conference. The students were from University of the Punjab, Pakistan, GFZ German Research Institute and California Institute of Technology in USA. Muhamamad Qasim Mahmood was the only student from Asia to participate in this field conference. He gave a talk on international geoscience outreach challenges on the trip. Qasim was selected for this huge opportunity because of his great efforts for international geological community. He is the Co-founder of a geology outreach website 'Learning Geology' that has more than 180,000 followers from all around the globe. He is running this platform from last 5 years. He also co-founded and run the largest international geological community group on Facebook that has more than 37,000 members. Qasim is also the Student Executive at Punjab Geological Society and Events Facilitator at World Youth Parliament for Water.
After the field conference, Muhammad Qasim also presented a poster entitled 'Using Live Virtual Field Tours to enhance student participation in field trip' at Annual Meeting and Exposition of Geological Society of America. The GSA Annual Meeting and Exposition is one of the largest conference of geological sciences in the world. This year more than 5000 people attended the conference.The GSA Annual Meeting technical program features 28 short courses and workshops, 6 Pardee Symposia, and 201 topical sessions and symposia.