News & Events in University of the Punjab
Department of Microbiology and Molecular Genetics celebrated 'Nutricia'
Department of Microbiology and Molecular Genetics celebrated 'Nutricia'
September 13, 2017: Department of Microbiology and Molecular Genetics organized 'Nutricia' in accordance with the Food Week. Dr. Zakia Latif, Dr. Samreen Riaz, Dr. Nageen Hussain and Ms. Warda Fatima were the organizers of the event. The colorful event was to benefit the university students to provide them with healthy food options and giving the idea of balanced diet concept; which our younger generation lacks according to experts. The ceremony was commenced with the recitation of Holy Quran by Hafiza Aasia Malik followed by Naat in Hafiza Ishrat Fatima's beautiful voice. Chairperson Prof. Dr Anjum Nasim Sabri then encouraged the students to intake a healthy diet which is therefore essential for their bodily growth and sufficiently necessary in their tough study routine. The event was hosted by Hina Khan said, "Fast food industry has harmed our society in the worst way it could. Then there is this insane dieting trend heavily followed by our teen and young adults."
Nutritionist and lecturer at University of Management and Technology, Ms. Afifa Tanveer was invited who mentioned 'Processed food industry is cleverly selling their products in the market by targeting a specific population', she also said, 'the market trend has changed our plate size and ultimately we've ended up eating more than what we require.' She mentioned about serving size of various food components.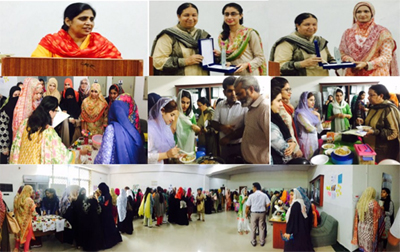 Ms. Shifa Ali, Clinical Nutrionist at Ittefaq Trust Hospitals, introduced students with the 'plate concept'. '40% of your plate should be filled with vegetables as they are a rich source of antioxidants and vitamins.' She further elaborated the serving size in relation to the amount of servings per day. Souvenirs were presented to both the speakers by the founder of MMG department and HEC national distinguished professor, Prof. Dr. Shahida Hasnain as a memento.
To further sparkle up the event students had arranged food stalls and competition was held among them judged by Prof. Dr. Shahida Hasnain, Ms. Afifa Tanweer, Ms Shifa Ali and Ms. Ammara Khalid. The stalls with the best tasting food and highest sale were given prizes. Students and faculty members participated in the event with enthusiasm and their feed backs showed that they had got much information from the lectures and had enjoyed the home made food items.