Seminar on Independence Day
Seminar on Independence Day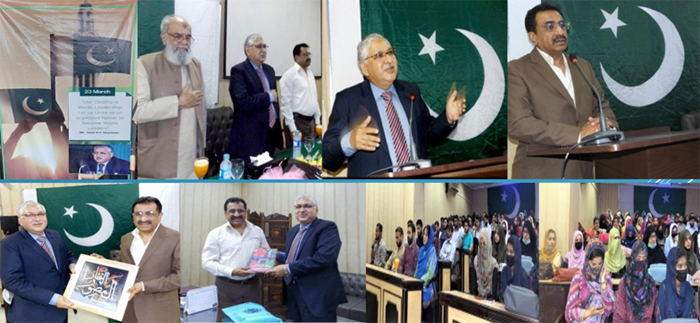 Haley College of Banking and Finance (HCBF) organized a seminar on the importance of "Pakistan National Day" on 21st March, 2022, with the theme, "Commemorating all the best efforts and sacrifices of our ancestors and the role of Youth in Nation Building." The Seminar was chaired by Principal HCBF Prof. Dr. Mubbsher Munawar Khan chaired the Seminar. Mr. Abid H K Sherwani, Director-General UMT, was the guest of honour. The Seminar was organized by Prof. Iftikhar Ahmed and his team and attended by faculty members & students. The Seminar was started with National Anthem, followed by Tilawat-e-Quran and Naat-e-Rasool-e-Maqbool Muhammad (PBUH).
The guest of honour Mr. Abid Sherwani started his speech with following verse of poetry:

Mr. Abid H K Sherwani said that 23rd March 1940 is a memorable day in the history of the Pakistan Movement against the British rulers. He emphasized the struggle and sacrifice of Muslims to achieve their objective of a Muslim Independent state. He further accentuated that 23rd March attracted eminent Muslim leaders across the sub-continent who gathered to speak for a sovereign nation. He highlighted that no freedom movement reached its goal without youngsters' participation. At present, the ideology of Pakistan is passing through tough times. Today Pakistan is facing various social, political and economic challenges. The young generation's participation is a must for the bright future of a country, and without solving the problems of the young generation, it is a distant dream. He focused on following the principles of Quaid: Faith, Unity & Discipline.
The Principal HCBF, Prof Dr Mubbsher Munawar Khan concluded the Seminar. Prof. Dr. Khan admired and appreciated the motivational speech of Mr. Abid sherwani. Prof. Khan stressed that 23rd March epitomizes the hard work and struggle of our great leaders Quaid-e-Azam and the vision of Allama Iqbal. He advised the participants to be honest, loyal, hardworking and patriotic. He urged the young generation to play their role to make Pakistan a peaceful, progressing and prosperous Pakistan.