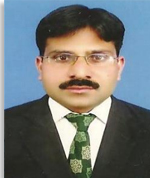 Dr. Hamid Bashir,
started his career by joining as "Research Officer" in Biopharmaceutical lab of Centre for applied Molecular Biology (CAMB), University of the Punjab Lahore in 2006. He worked on project "production of recombinant interferon". He learned many Molecular Biology techniques including PCR, ELISA, Gel Electrophoresis, Molecular cloning, Sequencing, Fermentation. SDS-PAGE, Western Blotting and Cell Culturing etc during working on different recombinant therapeutic protein projects like interferon, consensus interferon, insulin, rhG-CSF, Interleukin-6 and published the data in National and International journals.
Academically, Mr. Hamid Bashir did his Masters in Chemistry from the University of the Punjab. He completed his M.phil in Molecular biology from Punjab University-Lahore in 2012 and then enrolled in PhD program in Molecular Biology. His area of expertise includes Gene cloning and expression study, Fermentation and protein purification via HPLC and FPLC. Currently, besides teaching he is also engaged with research and development activities in the proteomics lab of CAMB and 04 M.Phil students are working under his co-supervision. He is an author of seven publications in the peer reviewed journals.
PROTEOMICS LAB

Proteomics a branch of biotechnology concerned with applying the techniques of molecular biology, biochemistry, and genetics to analyzing the structure, function, and interactions of the proteins produced by the genes of a particular cell, tissue or an organism. It also helps to identity of proteins of an organism, and to recognize the structure and functions of a particular protein. Proteomics is crucial for early disease diagnosis, prognosis and to monitor the disease development. Furthermore, it also has a vital role in drug development as target molecules. Proteomics is the characterization of proteins, including expression, structure, functions, interactions and modifications of proteins at any stage. Proteomics research laboratory is the main facility in the CAMB that is involved in the characterization and to evaluate the function of different therapeutic protein at molecular level. The purpose of this facility is to train the scholar for their research in proteomics.

The main objectives of the proteomics lab are

•

To isolate the genes and potential native proteins/enzymes which have industrial and therapeutic potential from the different organisms.

•

Expression and purification of recombinant proteins in the different expression systems.

•

Evaluation of therapeutic potential of the targeted proteins as antimicrobial, anti-cancers and antiviral activities against different cell lines.

•

Development of protein loaded nanoparticles with the aid of different polymers and in vitro and in vivo controlled release studies.