LAHORE: (Tuesday, August 3, 2021): A team of experts and archaeologists led by Dr. Muhammad Hameed, Chairman Department of Archaeology, Punjab University, is investigating the historic Tulaja Fort located in the picturesque Soon Valley. The history of the fort is enshrouded in mystery due to the lack of authentic written records in date of construction and period of settlement. The historical and archaeological narratives about the fort are still incomplete. Local traditions trace the fort's history to 5000 years ago. The place is also famous for having provided refuge to Jalaluddin Khwarizmi.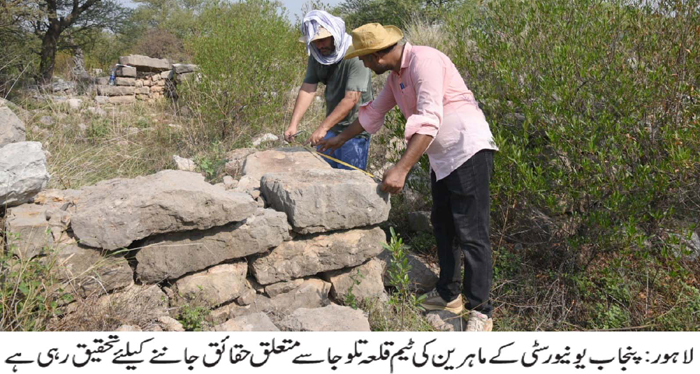 The purpose of the ongoing preliminary archaeological investigation is to provide initial documentation and prepare a feasibility report for developing the site as one of the major tourist destinations in the valley. According to Dr Hameed and his team, surface study of the fort such as the method of construction, shape of houses, the size of stones used, and artifacts from the past, do not support the existing theory about the site as 5000 old. He said all the pieces of evidence shall be analyzed by the professionals in order to determine the date and period of the Tulaja Fort.
In pursuance of the vision of the Prime Minister of Pakistan to develop heritage tourism in the country, Punjab University has always been playing an important role in providing better documentation and comprehension of our glorious heritage. PU Vice Chancellor Prof Niaz Ahmad has assigned the task to the team of archeologists under the supervision of Dr Muhammad Hameed.
The fort is a significant historical and archeological site which if properly explored and developed will be established as an important part of Pakistan's cultural heritage. The site has rich tourism potential and it can generate huge revenue for the country. The development of the site will also provide more opportunities to explore and highlight the archeological, historical, geological, environmental, and natural beauty of the Soon Valley.