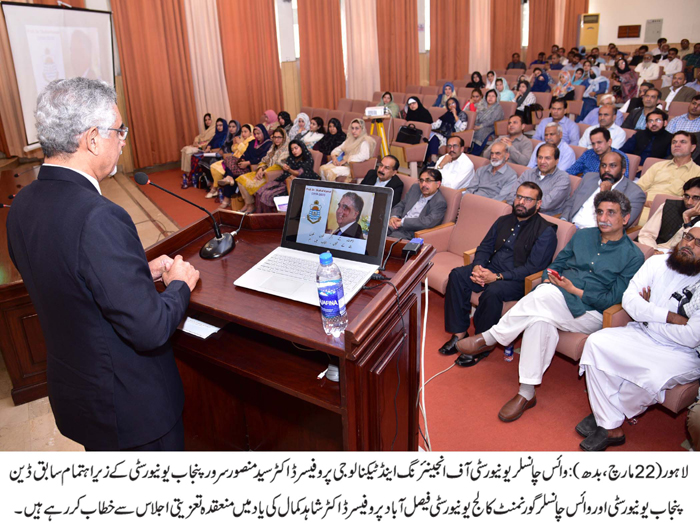 LAHORE: (Wednesday, March 22, 2023): Punjab University College of Statistical Sciences has organized a condolence reference in memory of former PU Dean and Vice Chancellor Government College University Faisalabad Prof Dr Shahid Kamal here on Wednesday. On this occasion, Vice Chancellor University of Engineering and Technology Prof Dr Syed Mansoor Sarwar, College Principal Prof Dr Sohail Chaand, President Academic Staff Association Prof Dr Azhar Naeem and Miss Tania Kamal, Dr Farrukh Kamal, daughter and brother of late Prof Shahid Kamal respectively, deans, directors, faculty members and employees were present. In his address, Prof Dr Syed Mansoor Sarwar said that Dr Shahid Kamal was a loving person who always encouraged his colleagues. He said that Dr Shahid Kamal never adopted a bossy attitude towards his juniors. He paid tribute to the services of the deceased in the field of education.
Dr Sohail Chaand said that Dr Shahid Kamal was a hard-working person and an all-round personality whose services for the development of statistics department and college can never be forgotten. Dr Azhar Naeem said that Dr Shahid Kamal is a martyr who will always be in our hearts. He said that Dr Shahid Kamal was an honest, good-mannered and loving person. He said that he learnt a lot from Dr Shahid Kamal as a teacher and achieved many achievements. He said that the credit for improving the infrastructure of PU goes to Dr Shahid Kamal.
Prof Dr Malik Zawwar Hussain said that he had a relationship with Prof Shahid Kamal for thirty one years and there were never any differences. He said that we have lost a sincere friend and leader. Dr Mumtaz Anwar Chaudhry said that Dr Shahid Kamal was a good teacher, educationist and philanthropist person. Dr Shahid Kamal also took difficult decisions to solve the financial problems of the university in the best way, he added. Miss Tania Kamal, daughter of Dr Shahid Kamal, said that her father was a very loving person. She thanked Punjab University for the condolence reference for her father's elevation. Dr Farrukh Kamal said that Prof Dr Shahid Kamal was not only his elder brother but also had the status of a father to him. On this occasion, a documentary was shown by GCU Faisalabad to pay tribute to the services of the deceased. At the end of the ceremony, Prof Dr Ashraf Hamdani prayed for the forgiveness of the deceased.