LAHORE: (Thursday, December 21, 2017): The speakers at a conference on engineering have stressed the need to find solutions to engineering related issues on our own for national development. They were addressing the 3rd international conference on engineering science organized by PU Institute of Chemical Engineering and Technology in connection with its 100th anniversary at its auditorium here on Thursday.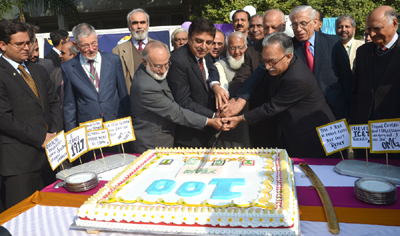 Acting Vice Chancellor Prof Dr Taqi Zahid Butt, ICET Director Prof Dr Abdullah Khan Durani, delegates from Austria, Malaysia, Italy and from various parts of country, faculty members, ICET alumni including Dr Asghar Ali Butt, Dr Arif Butt, Dr Shafqat Nawaz, Dr Javed, Dr Syed Zahoor ul Hasan, Dr Zafar Rashid, conference secretary Dr Mahmood Saleem and others were present on the occasion.

Addressing the ceremony, Prof Dr Taqi Zahid Butt said that in modern world, all engineering and sciences became a heterogeneous and somewhere homogenous mixture and we cannot identify the border lines between the various subjects. He said that the conference would provide the opportunity to the researchers a sufficient exposure and environment to gain the experience of other professions. He said that CPEC was really a game changer and had provided a golden opportunity for extra-ordinary development in Pakistan. That's why, he said, we needed to focus on engineering sector in order to get maximum benefits of CPEC and our engineers would get maximum opportunities to grow in their fields. He also stressed the need to promote industry-academia linkages. ICET Director Prof Dr Abdullah Khan Durani said that the conference provided a platform for interaction and exposure to the academicians and researchers. He said that it would be an opportunity to assess academic and research capabilities and achievements at par with prevalent national and international practices. He said that ICET administration was making efforts to produce skillful engineers and their degrees be recognized by the whole world. Later, acting PU VC Dr Taqi Zahid Butt and alumni of ICET cut 100 pound cake to celebrate 100 years of inception of ICET.