Department of Mycology & Plant Pathology
Teaching aids:
The department takes help from audio-visual and media resources like overhead and slide projector. Multimedia has been purchased through special grant provided by the university. These facilities are available to the instructors as well as students, working either in organizing lecture groups or alone.
Library:
In addition to textbooks and recent issues of reference books, the library has substantial collection of local and foreign periodicals and newspapers. Guidance and reference services are provided to all the students and research scholars on informal and formal basis. Details of the holding are listed on the library's catalogue. During the present fiscal year department has highly upgraded library through purchase/purchasing most recent books of worth Rs. 6.5M sponsored through PC1 by HEC and special grant from the worthy Vice chancellor.
Lab Facilities
•

Microscopes

•

Autoclave

•

UV illuminator

•

PCR

•

DNA hybridizer

•

UV Spectrophotometer

•

Gel electrophoresis

•

Rotary evaporator

•

Oven

•

Weighing balance

•

Water distillation unit

•

Flask Shaker

•

Incubator

•

Fridge & Freezer

•

Centrifuge

•

Laminar flow chambers

•

Grinder

•

Glassware

•

Drying cabinet

•

Microwave

•

Scanner

•

Printer

•

Camera
Computer Lab:
The department has a computer lab with 10 P-III connected with the Internet. All computers are located in one Lab available from 8.00 am to 5.00 pm six days a week to all students & staff. Besides that 6 computers have been specially designated for Ph.D. students.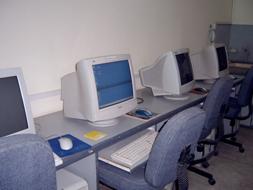 Experimental Station:
Three acre of land has been primarily allocated to conduct field studies on various disciplines of plant pathology and its allied aspects. Due importance is given to academic and applied aspects of urban agriculture especially cultivation of medicinal plants, floriculture and conservation of rare species. Experiments conducted at this station not only train the students in research activities but also help students in visualizing intensity of the pathological constraints.